Wollen Sie die deutsche Version sehen? ***** Voulez-vous voir la version française?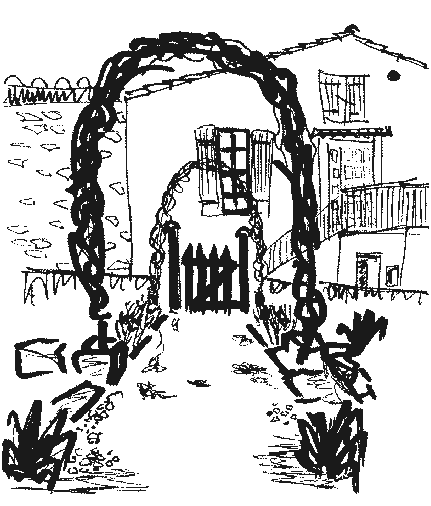 Please contact us for the most current information.
You can find available dates here.
---
The Languedoc region
The region Languedoc in the south of France represents the passage between the Massif Central and the Mediterranean Sea. The name Languedoc refers to the local dialect (langue d'oc) in which "yes" doesn't translate with "oui" but with "oc". The region Languedoc today comprises the three departments Gard, Hérault und Aude. Thanks to the Mediterranean climate and the fertile, muddy soil that was sedimented by many rivers, agriculture has always played a dominant role in the region. Since the last century the local farmers mainly live from wine-growing. Among other attractions Languedoc has nice beaches, hilly areas in the Massif Central with its many excursion possibilities and the typical relaxed southern "ambiance".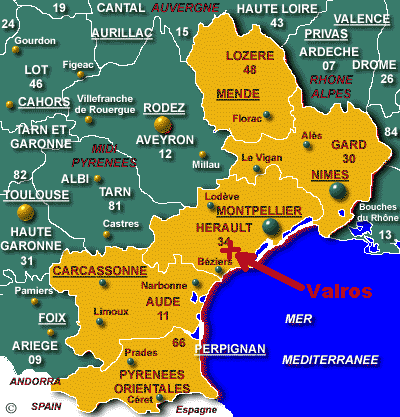 Here you will find a whole set of more links and information concerning Languedoc-Roussillon.
---
Information about VALROS
Valros is located between Beziérs and Pézenas. From the historical ruin "Tour" there is a fantastic overview over the village (1.500 inhabitants) and the surrounding vineyards. In Valros you can find the peacefulness of a rural village as well as urban centers like Montpellier (about 50 km) and Béziers (about 15 km) near-by. Several beaches lie within a short distance and can easily be reached. In Valros you can find shopping possibilities as well as postal services. The closest banks are located in Pézenas.
Here you find a few pictures of the village of Valros.
---
Our offer
| | | |
| --- | --- | --- |
| Big open kitchen | Bed linen | 5 bikes |
| Big living room | Shady terrace | Table tennis |
| 2 sleeping rooms | Garden | Surf board |
| 2 bath rooms | Swing | Darts |
| Radio/CD/MP3 equipment | Parlor and board games | Outdoor games |
| WLAN (WiFi-Internet) | Big library | Beach equipment |
| Laundry machine | Child seat and bed | |
---
Attractions and excursions
We recommend a short walk to the ruin "Tour". The magnificent view over the huge wine region, the village Valros, to the mountains and even to the sea is overwhelming.

The historical town

Pézenas

- city of

Molière

- is only at 7 km distance from Valros and can easily be reached by bus or by bike. Regularly on Saturdays there is a market which is known in the whole district. Here you find some suggestions of trips starting in

Pézenas

.

In summer there are numerous festivals in Valros and the surrounding villages, e.g. the Thanksgiving Festival at the beginning of July and the Wine Festival — where wine is free! —

at

the end of July.

,

Valras-Plage

,

Mèze

au

Etang

,

Marseillan-Plage

,

Sète

and many others) are in close proximity

St.

Guilhem

-le-

Désert

: a picturesque village about 40km away from Valros situated in a small valley. Close nearby are the caves of

Clamouse

and the historical bridge Pont

diable

.

Lac de

Salagou

and Cirque de

Mourèze

: a lovely lake in the foothills of the Massif Central and its bizarre walls of rock close to a romantic village.

The charming cities of Montpellier (or try here) and

Béziers

are well worth a day trip; they are only 70 and 15, respectively, bus minutes away from Valros. Carcassonne is beautiful as well.

There are five bikes (plus a children bike) at your disposal. You are free to discover the beautiful,

colourful

wine region around Valros.

On the river

Hérault

close to St

Guilhem

-le-

Désert

you can go on rafting and canoe trips (even for two days) as well as on an excursion by

hydrospeed

boat.

In

Valmagne

you can visit a monastery.

West of

Béziers

are

the historical ruins of

Oppidum

d'Enserune

from where you have a magnificent view to the Pyrenees.

For wine connoisseurs: A multitude of different local wines can be tasted at cheap rates (among others also the well-known

Picpoul

de

Pinet

from

Valros

'

neigbouring

village). A visit to a wine cellar in the region is a "must".

In the region of

Marseillan

there are some nature and bird reserves for bird watchers.

It is only about 20km to the foothills of the mountains where you can go for some hikes in a wonderful, natural setting with

a fascinating

vegetation. Highly recommendable is the Gorge

d'Héric

and the Tarn region.

Boat trips are offered on the Canal du Midi.

You can also do sports in the village and surroundings: tennis, football,

pétanque

, hikes, cycling, horse-riding, golf and jogging through the vineyards.
---
How to come to VALROS
It is easy to get to Valros by public transport. Going there by car doesn't give you a big advantage in time. This is a map of the communications in Languedoc-Roussillon.
---
Where is our house in VALROS?
Our house is located quite close to the bus stop (cf. map). The address is as follows: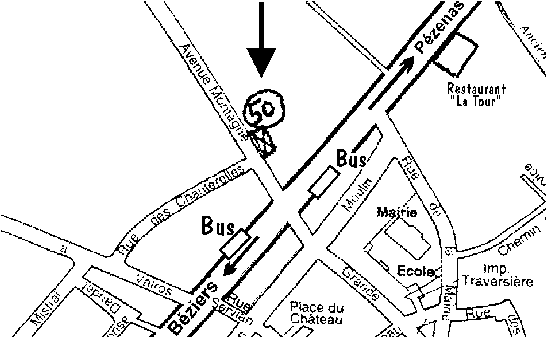 48/50, avenue de la Montagne; F-34290 Valros
The map on Google Maps (even with Streetview).
---
What about the infrastructure?
Here you can view a couple of pictures of the house.
Our 90-year old, fully renovated house consists of a well-equipped kitchen, two sleeping rooms, a living room with a fire place, a spacious entrée/corridor, a big terrace, a shower/toilet/laundry room (incl. a washing and a drying machine) and an old barn/garage. Six people can easily be accommodated in the house. More guests could spend the night in sleeping bags on sun beds and self-inflating mattresses. The garden comprises a small lawn and playground. In the barn/garage there is a ping pong table (table tennis), the five bikes (plus two children bikes), a surf board (with everything that's necessary) and a small workshop. Tenants are fully responsible for possibly occurring damages. They should immediately be reported to us.
In the house you find Wireless Internet (WLAN) and a radio/CD/MP3 station; however there is no TV. Per video streaming though you can access various TV stations.
Smoking in the house is strictly forbidden! The terrace can be used as smoking area.
---
Family-friendly atmosphere
Our house is well suited for children as well. Next to two small child beds (cot) and a child's eating chair there are two extra (children) seats for the bike. There are also a lot of toys (a.o. table tennis, basketball, pétanque/boule etc.) available for the kids (as well as for adults). Around the house there are big and safe playing areas.
---
Food, catering and shopping
In Valros you are not far away from civilization. There is a grocery and two bakeries for the daily needs. Moreover, twice a week there are several food cars (with vegetables, meat, fish, seafood etc.) coming to the central square of Valros. This will be announced on the village loudspeakers If this is still not sufficient you can get exclusive commodities in the supermarket (Carrefour or Intermarché) in Pézenas (6km). If you don't want to do the cooking yourself you can go to the restaurant "La Tour" in Valros. If you fancy a beer, there are two bars for you in Valros. Each Wednesday on the central square of Valros a pizza car offers freshly prepared delicious pizza. We warmly recommend them.
---
Travel guides and maps: a selection
The following documents are at your disposition in Valros (not concluding):
---
Booking and reception of the keys
First you have to find out whether the house is still available at your preferred time. Sara and Thomas Bubendorf-Suhner will tell you about this. If this is alright you get the rental contract together with information on the payment procedure. When the contract is signed by both parties and a part of the rent (according to the contract) is paid you will get the keys of the house. Before your departure these keys will be sent to you by mail. At the moment of return they have to be sent back immediately.
---
Our house is available as per below overview. The days in blue are the days on which the house is already booked.
In case the house is already booked at your preferred date please have a look at this house: Ferienhaus von Peter Meinusch.
Or have a look here: Ferienhausmiete.de, Ferienhaus or Ferienwohnung von Privat.
---
Rent
·  EUR 630-.- per week
·  EUR 860.- per week in July/August
Included in the rent is also the cleaning of the house at the end of your holidays as well as the use of all towels and bedclothes.
---
More information
If you are interested in our house and wish to learn more about it you can contact us for more information.
Here you can view a couple of pictures of the house.
All information without guarantee and subject to change without notice!
---

Free Counter by GOWEB Back to the Homepage
---
Thomas and Sara Bubendorf-Suhner
e-mail: thomas@bubendorf.ch